Igrajte Crystal Hot 40 besplatno
Idea
Video slot "Crystal Hot 40" je delo provajdera Fazi Interactive sa temom voćkica i pet kolona sa četiri reda i 40 fiksnih platnih linija. Ovaj slot je klasičan, ali se razlikuje po tome što voćkice izgledaju kao da su napravljene od kristala, što je jasno i iz samog imena.
U igri se nalazi šest osnovnih simbola. Simboli narandže, limuna i trešnje su najmanje vredni, a pet istih simbola u nizu donosi isplatu od 2,65 puta uloženog iznosa. Simboli šljive i lubenice imaju srednju vrednost, a pet takvih simbola u nizu donosi isplatu pet puta veću od uloga. Najvredniji simbol je grožđe, a pet grožđa u nizu donosi isplatu deset puta veću od uloga.
Osim osnovnih simbola, postoje i dva specijalna simbola. Prvi je wild simbol, crvena srećna sedmica, koja zamenjuje sve druge simbole osim skatera i pomaže u formiranju dobitnih kombinacija. Wild simbol takođe ima visoku vrednost, a pet wild simbola u nizu donosi isplatu 25 puta veću od uloga. Skater simbol je zlatna zvezda i, za razliku od većine slotova, ne donosi besplatne spinove u "Crystal Hot 40". Umesto toga, omogućava igračima ostvarivanje odličnih isplata, bez obzira na to da li se nalazi na platnoj liniji ili ne.
Ovaj video slot takođe nudi autoplay opciju, što znači da igrači ne moraju neprestano vrteti spinove, već je mogu podesiti da se automatski izvode dok igrači uživaju u igri i ostvarenim dobitcima.
Grafika
Fazi je izuzetno uspešno odradio ovaj aspekt igre. Budući da je ciljao na retro stil za video slot, grafika je usmerena u tom pravcu, ali s dodatkom simbola koji izgledaju gotovo 3D, što dodatno obogaćuje izgled ovog slota. Pozadina slota je u nijansama crvene boje, prelazeći postepeno iz svetlije u tamniju nijansu. Boje simbola su svetle i prijatne za oko, ne umaraju igrače tokom produženog igranja. Posebna animacija se prikazuje kada igrač ostvari dobitak, pri čemu plamenovi iskaču na ekranu. Takođe, u opciji klađenja, karte su precizno i jasno prikazane, a Fazi nije prepuštao ništa slučaju u ovom segmentu.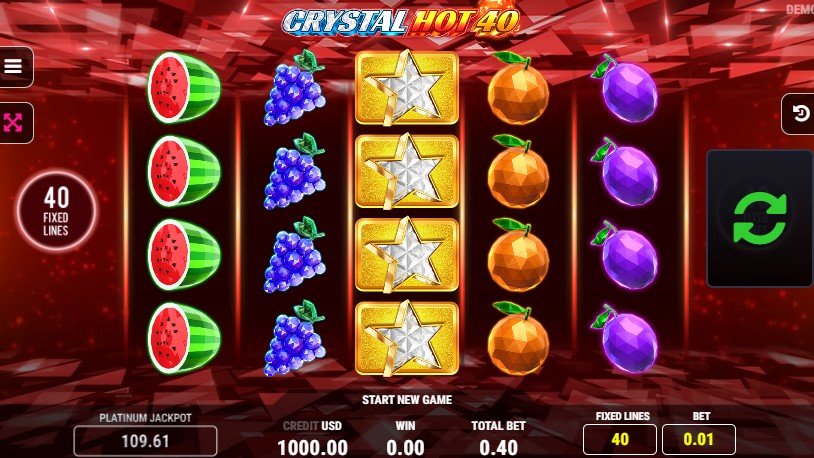 Zvuk
S obzirom na to da je ovaj video slot dizajniran u retro stilu, zvuk je prilagođen toj estetici. Zvuk prilikom pokretanja slota, odnosno okretanja točka je jednostavan i može se reći da je repetitivan, što bi moglo postati dosadno igračima nakon određenog vremena.
Zvukovi koji prate ostvarene dobitne kombinacije razlikuju se ovisno o simbolima u kombinaciji i veličini dobitka, što je dobra ideja od strane Fazi Interactive da stvori raznovrsnost u zvuku. Kada igrač ostvari dobitak, može čuti zvuk novčića koji padaju dok se osvojeni iznos dodaje na ukupni saldo. Kada igrač odluči koristiti bonus rundu ili opciju klađenja, to je označeno kratkim zvukom, a tokom klađenja se čuje zvuk miješanja špila karata. Melodija se razlikuje na kraju ovisno o tome je li igrač pogodio ili ne boju karte. Sveukupni dojam je da Fazi Interactive nije napravio loš posao s aspekta zvuka.
Bonus
Kada su u pitanju bonus opcije u Crystal Hot 40, nećete pronaći mnogo kompliciranih dodataka, što odražava Fazi Interactiveovu namjeru da stvori retro slot. Jedna od opcija je "Gamble" (kockanje) u kojoj igrači mogu pokušati udvostručiti svoj dobitak. Nakon ostvarenja dobitne kombinacije, igrači imaju mogućnost igranja igre "crveno/crno" gdje trebaju pogoditi boju sljedeće izvučene karte. Ako uspiju pogoditi, njihov dobitak će se udvostručiti, ali ako ne uspiju, izgubit će sav dobitak koji su odlučili kockati. Osim opcije za klađenje, postoji i progresivni džekpot koji se nasumično aktivira tijekom igre.
Zaključak
Ovaj video slot od Fazi Interactive je jednostavan za igranje, što ga čini prikladnim i za početnike koji se lako mogu upoznati s njim. Srž ove igre leži u činjenici da je savršeno prilagođena igračima koji preferiraju klasične načine igranja i nude visoke isplate, što je uistinu impresivno kod ovog slota. Fazi Interactive je izvrsno odradio posao s Crystal Hot 40, koji će privući igrače koji ne žele riskirati previše, ali također pruža dovoljno mogućnosti za one koji su voljni preuzeti veći rizik. Ovaj video slot definitivno će zabaviti igrače dugi niz vremena.