Igrajte Rise of Ra besplatno
Idea
Slot igra Rise of Ra razvio je provajder EGT, i igrači ga ne bi trebali pomiješati s dobro poznatim slotom Book of Ra koji je razvio Novomatic. Međutim, igrači će primijetiti sličnosti kada su u pitanju simboli korišteni u oba slota, kao i glavna tema. Rise of Ra je jedan od najpopularnijih slotova koje je razvio EGT.
Kao što se može naslutiti iz naziva, tema ovog slota je stari Egipat, a način igranja je standardan i ne razlikuje se mnogo od onoga što je uobičajeno za slotove tvrtke EGT. Slot se sastoji od pet stupaca i tri reda, i ima maksimalno 15 dobitnih linija. Kao i većina slotova, Rise of Ra također ima opciju za automatsko igranje (autoplay), koja igračima omogućava postavljanje automatskog vrtnje koje mogu isključiti u bilo kojem trenutku.
Što se tiče simbola, svi su povezani s egipatskom mitologijom. Tu su kovčeg za blago, ankh, vaza i Raov amblem kao simboli koji najmanje plaćaju, do 100 novčića. Mumificirani pas i simbol faraona daju do 125 novčića, sarkofag i Raovo svevideće oko do 250 novčića, dok simbol hijeroglifa daje do 400 novčića. Najvredniji su simbol samog Ra i njegova ljubavnica, koji mogu donijeti do 750 novčića, dok scarab donosi 10.000 novčića za pet istih. Scatter simbol u ovom slotu označen je natpisom na zidu, dok je scarab istovremeno divlji simbol koji zamjenjuje sve simbole osim scattera, a kada to učini, svaka dobitna kombinacija se udvostručuje.
Grafika
Grafika u slotu Rise of Ra svakako nije najmodernija na svijetu, ali upravo je njena jednostavnost u velikoj mjeri doprinijela prikazivanju povijesne teme igre na pravi način. Simboli u slotu su jasno i precizno prikazani uz upotrebu animacijskih efekata, što ostavlja prilično solidan dojam. Boje nisu previše jake i neće iritirati igrače nakon dužeg igranja, pa je ukupni dojam vrlo dobar. U svakom slučaju, grafika u slotu Rise of Ra nije ništa revolucionarno, ali svakako obavlja posao onako kako treba kada su u pitanju online slotovi.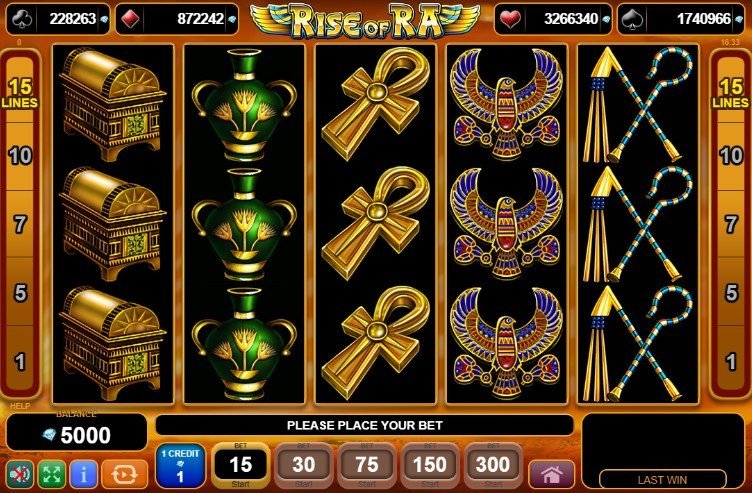 Zvuk
Kao i u slučaju grafike, slot Rise of Ra ni po pitanju zvuka ne donosi ništa epohalno i što nije već viđeno kada su u pitanju vieo slotovi komapnije EGT. Pokretanje spina praćeno je dobro poznatim mehaničkikm zvukom, a već je dobro poznata i melodija koja se javlja u slučaju dobitaka i ona se ne razlikuje u zavisnosti od visine osvojenih novčića. Pošto nema nekih novina koje bi mogla da iznenade igrače kada je zvuk u pitanju, verovatno će im posle nekog vremena zvučni efekti u ovom slotu biti pomalo i monotoni.
Bonus
Što se tiče mogućih bonusa u ovom slotu, prva opcija su besplatni spinovi. Igrači ih mogu dobiti sakupljanjem tri ili više scatter simbola i tako aktivirati 15 besplatnih spinova, tijekom kojih će svi dobitci biti trostruko uvećani.
Također postoji i opcija "gamble" (kockanje), u kojoj igrači mogu pokušati udvostručiti svoj osvojeni iznos. Igrači trebaju pogoditi boju sljedeće izvučene karte, crvenu ili crnu. Međutim, ako ne pogode, gube svoj osvojeni novac.
Progresivni džekpot nije čest, ali predstavlja zanimljivu mogućnost za igrače. Igrači će morati odabrati tri karte između 12 koje su okrenute licem prema dolje dok ne pronađu tri ista simbola. Iznos dobitka ovisi o tome koji su tri ista simbola izvučena.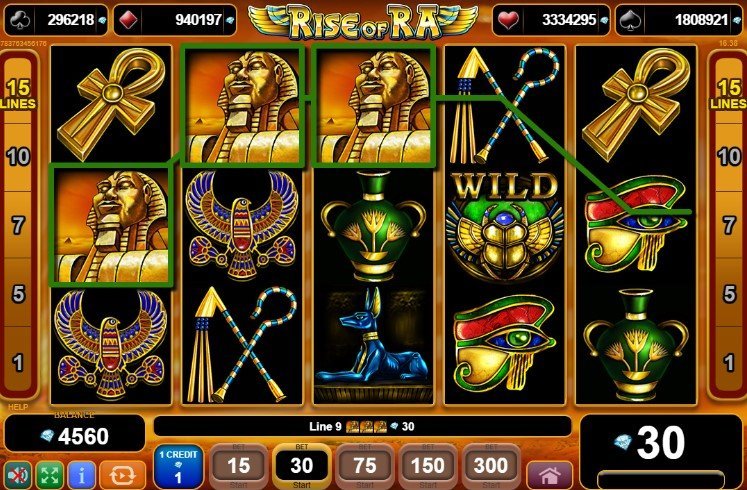 Zaključak
Slot Rise of Ra predstavlja jedan od manje inovativnih slotova na tržištu s temom Egipta. Dizajn slota i način igre možda nisu vrhunski, ali igrači neće naići na prepreke tijekom igre. Iskusni igrači će cijeniti raznolikost dodatnih mogućnosti i potencijalne dobitke, dok će igračima s dubljim džepom odgovarati prilika za klađenje na veće iznose na način koji njima odgovara.
Kao nedostatak ovog slota može se navesti nedostatak mobilne aplikacije i rijedak progresivni jackpot, ali to u određenoj mjeri čini ovaj slot zanimljivim.