Igrajte Legacy of Dead besplatno
Idea
Legacy of Dead je još jedan dodatak slot igrama s temom drevnog Egipta, slično kao Book of Dead i Book of Ra. Smješten duboko u piramide, ovaj slot ima pet valjaka i deset dobitnih linija. Legacy of Dead koristi devet simbola koje igrači trebaju složiti u pravilnom redoslijedu kako bi ostvarili dobitak. To uključuje slova A, J, K i Q, broj 10, te simbole Horusa, Anubisa, faraona i Tutankamona, koji igračima donosi najviše kredita. Simboli će biti vrlo poznati igračima jer su gotovo identični onima u slotu Book of Dead.
Simbol zlatne grobnice u ovom slotu služi i kao skater i kao wild simbol te može zamijeniti bilo koji drugi simbol u slotu. Kao i većina sličnih slotova, Legacy of Dead također ima opciju automatske reprodukcije (autoplay), što omogućava igračima da podesite automatsko okretanje valjaka, čime se eliminira potreba za ručnim okretanjem valjaka nakon svakog spina.
Grafika
Legacy of Dead može se pohvaliti možda i najboljom grafikom među svim slot igrama sličnog tipa. Simboli su izuzetno detaljno dizajnirani i izgledaju izvanredno u visokoj rezoluciji, s bogatim i živim bojama. Ono što će vjerojatno biti važno igračima jest da pozadina igre ne ometa njihovu koncentraciju na slotu. Boje su suptilne, bez suvišnih detalja koji bi mogli odvlačiti pažnju i smetati onima koji se odluče za ovaj slot.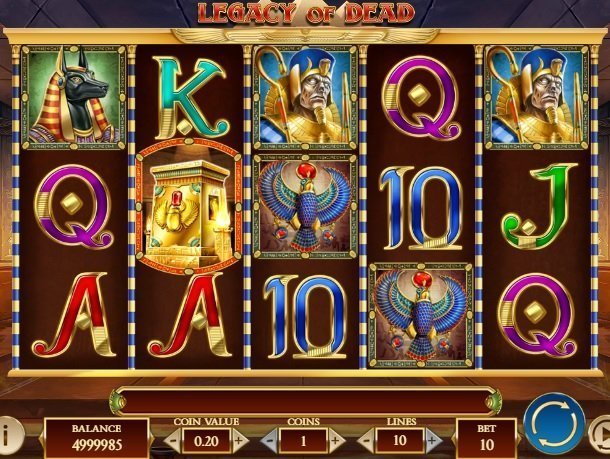 Zvuk
Kao i u sučaju već pominjanih slotova sa istom ili sličnom tematikom, muzička podloga je skoro identična. Zvuk je veoma orjentalan, što igračima daje zaista osećaj kao da se nalaze u Egiptu okruženi beskrajim peskom. Pokretanje spina ima identičan zvuk koji može posle nekog vremena da bude i dosadana igračima, dok je drugaiji zvuk kada igrači ostvare dobitak, a dužina melodije zavisi i od veličine osvojenog. Prilikom igranja ''gamble'' opcije muzik je znatno dramatičnija i time se naglašava mogućnost da u toj igri igrač ostne bez svega osvojenog.
Bonus
Možda najznačajnija značajka Legacy of Dead slota je mogućnost osvajanja besplatnih spinova. Da biste aktivirali ovu funkciju, morate dobiti tri ili više scatter simbola, što će vam donijeti deset besplatnih spinova. Ako uspijete dobiti još tri scatter simbola tijekom besplatnih spinova, dobit ćete dodatnih deset besplatnih spinova.
Kao što je uobičajeno za ovakve slotove, Legacy of Dead također nudi 'gamble' opciju. Ova opcija omogućuje vam da udvostručite svoj dobitak tako da pogodite boju sljedeće izvučene karte, odnosno hoće li biti crvena ili crna. Ako napravite pogrešan izbor, izgubit ćete sve osvojeno, dok će ispravan izbor udvostručiti vaš dobitak. Svaki put kad pogodite, dobit ćete priliku da ponovno odaberete boju. Ova opcija nije obavezna i možete je preskočiti ako niste skloni riziku.
Zaključak
Iako već postoji mnogo slotova s temom antičkog Egipta, Legacy of Dead svakako zaslužuje pažnju igrača. Razvojni timovi su odlučili krenuti sigurnim putem s ovim slotom, ali to se ne može smatrati lošim potezom. Iako neće izazvati veliko oduševljenje, Legacy of Dead neće nikoga razočarati. Ovaj slot će biti poznat iskusnijim igračima jer se tematika već viđala, ali upravo u tome leži njegova snaga. Oni koji su uživali u igri Book of Dead sigurno neće htjeti propustiti Legacy of Dead.