Igrajte Lucky Streak 3 besplatno
Idea
Online slotovi s voćnim temama uvijek su dobar način za podsjećanje igrača kako su stvari nekada izgledale. Endorphina, provajder ovog online slota pod nazivom Lucky Streak 3, upravo se svrstava u taj žanr i bit će izuzetno privlačan igračima koji žele podsjetiti se kako je bilo igrati stare slotove. Ovaj slot ima format 3×3, ali uključuje pet isplatnih linija.
Lucky Streak 3 je treća igra u seriji klasičnih voćnih slotova pod imenom Lucky Streak, koju je razvio Endorphina. Sve igre su brzo slijedile jedna drugu, što jasno ukazuje da je razvojni tim planirao cijelu seriju ovakvih slotova. Igrači koji igraju ovaj slot doživjet će klasični osjećaj starih slotova sa mnogo voća na ekranu i iznimno jednostavnom igrom. Ovaj slot nema mnogo dodatnih opcija, što nije iznenađenje s obzirom na to da se temelji na nostalgiji za klasičnim voćnim slotovima. U slotu je dostupna opcija za automatsko okretanje valjaka, tako da igrači ne moraju svaki put ručno pokretati igru, a tu opciju mogu u svakom trenutku isključiti.
Budući da Lucky Streak 3 nastoji biti vjeran stilu klasičnih voćnih slotova, simboli u igri su upravo takvi. Postoji pet simbola niže vrijednosti u obliku voća i poluge, uključujući grožđe, limun, šljivu i trešnju. U višoj kategoriji su tri simbola više vrijednosti: zvona, zvijezda i najvrijedniji simbol u igri, Srećna sedmica. Kao i većina klasičnih slotova, Lucky Streak 3 nema specijalne simbole poput skatera ili wild simbola.
Grafika
S jedne strane, ovaj online slot izgleda sjajno s grafičkog stajališta, dok s druge strane djeluje potpuno zastarjelo, a dojam igrača će ovisiti o tome vole li klasične voćne slotove ili ne. Kao što smo već napomenuli, Endorphina se potrudila da ovaj slot doista odašilje taj šarm klasičnih slotova, pa je i grafika u potpunosti usklađena s tim stilom. Pozadina slota nije previše komplicirana i sastoji se uglavnom od plamenova koji izbijaju iz pozadine. Simboli su prikazani na klasičan način, vrlo jasno i s izraženijim bojama koje ipak neće smetati igračima. Dok će sve ovo ostaviti vrlo dobar dojam na ljubitelje klasičnih slotova, oni koji prvi put isprobaju Lucky Streak 3 vjerojatno će biti iznenađeni jednostavnošću grafičkog dizajna i izgledom simbola.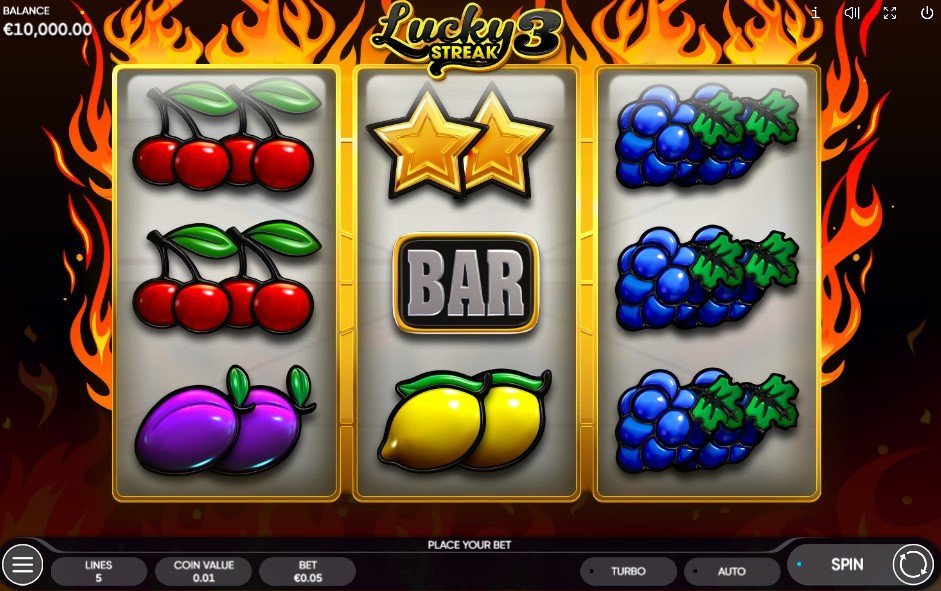 Zvuk
Ono što vrijedi za grafiku ovog online slota vrijedi i za zvuk. Za ljubitelje klasičnih slotova, zvuk u Lucky Streak 3 će biti prava nostalgija, dok će novim igračima monotoni zvuk slota, kao i kratki zvučni efekti prilikom dobitka, vjerojatno brzo dosaditi. Također, postoji drugačiji zvuk kada igrač koristi opciju kockanja, ali sveukupno gledano, Endorphina je postigla dobar zvuk s obzirom na klasični slot. Sve je jednostavno i bez kompliciranja.
Bonus
Kada su u pitanju bonus opcije, Lucky Streak 3 online slot nudi ograničene mogućnosti, što je očekivano za slot sa tri kolone. Endorfina nije uključila wild simbole, scatter simbole ili besplatne spinove, što su uobičajene opcije u današnjim slot igrama.
Postoji jedna vrsta bonusa koju igrači mogu iskoristiti, a to je duplikator dobitaka koji se primjenjuje kada se dobiju identični voćkasti simboli na svim pet platnih linija u jednom spinu. Kada igrač postigne ovu kombinaciju, formiraće pet dobitnih kombinacija i osvojiti duplo više nego što je prvobitno dobio.
Također, postoji i opcija gambling igre koju igrači mogu koristiti, ali nije obavezna. Nakon što igrač ostvari dobitak, ima opciju da udvostruči svoj dobitak preuzimajući dodatni rizik. Prikazat će mu se pet karata okrenutih licem prema dolje, s tim da će samo prva biti otkrivena. Zatim igrač bira jednu od preostalih četiri karata koje su okrenute licem prema dolje. Ako izabere kartu veće vrijednosti od one prve, udvostručit će svoj dobitak, dok će u suprotnom izgubiti svoj dobitak. Ovu igru je moguće igrati najviše 10 puta nakon svakog dobitnog spina.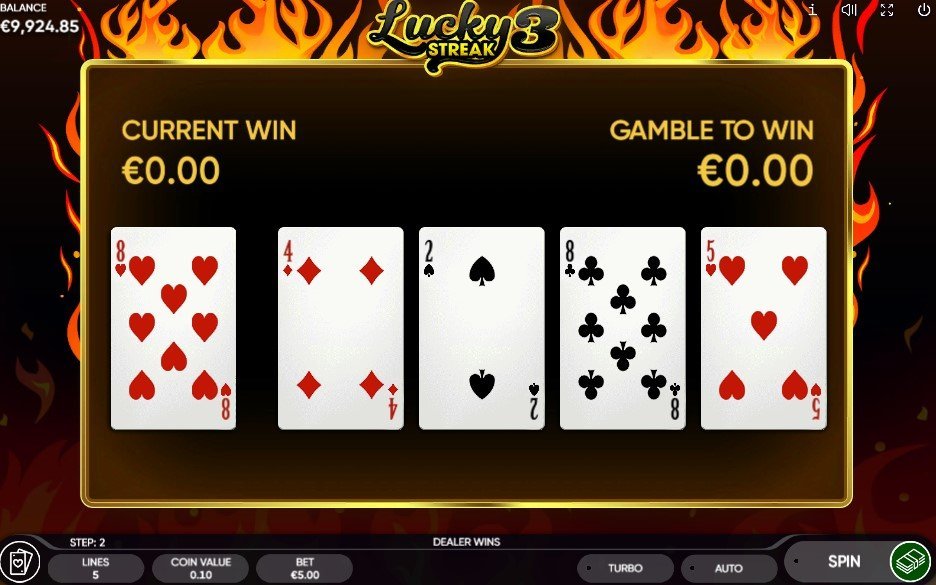 Zaključak
Sveukupni dojam je da Lucky Streak 3 nije stvoren s ciljem postavljanja rekorda ili iznenađivanja ljubitelja online slotova nevjerojatnim opcijama i mogućnostima. Ovaj slot je namijenjen određenoj skupini igrača, i vrlo je vjerojatno da će samo oni znati maksimalno uživati u onome što ovaj slot nudi. Igračima koji nisu skloni voćnim slotovima, Lucky Streak 3 će vjerojatno teže prirasti srcu. Ovaj online slot pruža zadovoljstvo igračima koji preferiraju nove jednostavne slot mašine i bit će odličan izbor za one koji su ljubitelji klasičnih online slotova.