Igrajte Pyramid: Quest for Immortality besplatno
Pyramid: Quest for Immortality
Idea
Pyramid Quest for Immortality je djelo tvrtke NetEnt i još jedan u nizu video slotova koji se temelje na antičkom Egiptu, piramidama i potrazi za skrivenim blagom faraona. To je suština ovog NetEnt izdanja, gdje će igrači krenuti u potragu za velikim bogatstvom faraona skrivenim unutar piramida.
Ovaj video slot ima pet kolona i čak 720 načina za ostvarivanje dobitaka, pri čemu nema klasičnog okretanja valjaka jer simboli padaju u kolone. Budući da je tema antičkog Egipta često korištena u video slotovima, igrači će brzo prepoznati većinu simbola u ovoj igri. Simboli niže vrijednosti prikazuju znakove igraćih karata 10, J, Q, K i A, a na njima su također hijeroglifi koji predstavljaju oko boga Ra, pticu, zmiju i slično.
Među simbolima više vrijednosti nalazi se zlatna kobra koja igračima donosi dobitak osam puta veći od uloga, Horus s množiteljem od 10 puta, a Skarabej nagrađuje igrače s dobitkom 15 puta većim od uloga. Kleopatra, kao drugi najvredniji simbol, nudi dobitak 25 puta veći od uloga, dok najviše donosi simbol faraona – čak 50 puta više od uloga. Wild simbol u ovom video slotu je Zlatni Ank i zamjenjuje sve druge simbole u igri, dok Scatter simbol nije prisutan u ovom slotu.
Grafika
Grafika u slot igri Pyramid Quest for Immortality je izvrsno izvedena, i zahvaljujući njoj, odmah možete osjetiti atmosferu antičkog Egipta čim započnete igrati. NetEnt je uspio postići iznimno dobar posao u ovom aspektu. Pozadina slota prikazuje piramidu čiji se obrisi vide noću, dok su kolone zaštićene figurama Ra i Anubisa koje su vrlo dobro nacrtane. Simboli niže vrijednosti su jednostavnijeg dizajna, dok su oni visoke vrijednosti puno kompleksnijeg izgleda s bogatim bojama. Bez obzira na to, svi simboli su grafički kvalitetno izvedeni, a boje su živahne, ali nisu napadne ako dugo igrate ovaj slot. Također, animacija kada simboli nestaju iz dobitne kombinacije i padaju novi je također dobro izvedena.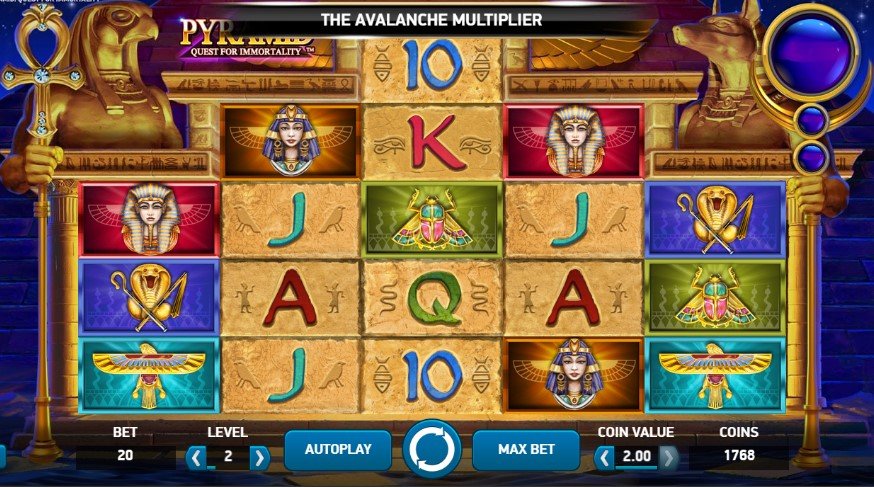 Zvuk
Zvučni efekti u ovom video slotu u potpunosti dočaravaju atmosferu antičkog Egipta. Pored odlično izvedenih zvukova kada se kameni blokovi sa simbolima sruše i formiraju dobitnu kombinaciju, tu su i dodatni zvuci koji se čuju kada igrač ostvari dobitak. Međutim, ovi zvuci mogu postati pomalo repetitivni i dosadni ako igrač provede dugo vreme igrajući ovaj video slot. Također, dodatni zvukovi se aktiviraju kada se multiplikator uključi. Općenito, glazba u igri Pyramid Quest for Immortality ne ostavlja nikakvu dilemu u vezi s temom ovog NetEnt izdanja.
Bonus
Nažalost, ovaj video slot ne nudi besplatne spinove ili druge tipične bonus opcije, budući da se temelji na konceptu padajućih simbola u kolonama. Ovo znači da umjesto tradicionalnih spinova, simboli padaju u kolone, a kada se stvori dobitna kombinacija, ti simboli nestaju i otvaraju prostor za nove simbole, što može rezultirati dodatnim dobitcima.
Kada igrač uspije spojiti tri uzastopne dobitne kombinacije, multiplikator će se povećati za jedan. Međutim, nakon završetka niza dobitaka, multiplikator se resetira na početnu vrijednost. Što se tiče wild simbola, on se pojavljuje u tri srednje kolone, i ako se pojavi na vrhu druge, treće ili četvrte kolone kao dio dobitne kombinacije, pretvara se u wild simbol za sljedeće simbole koji padaju u kolonama.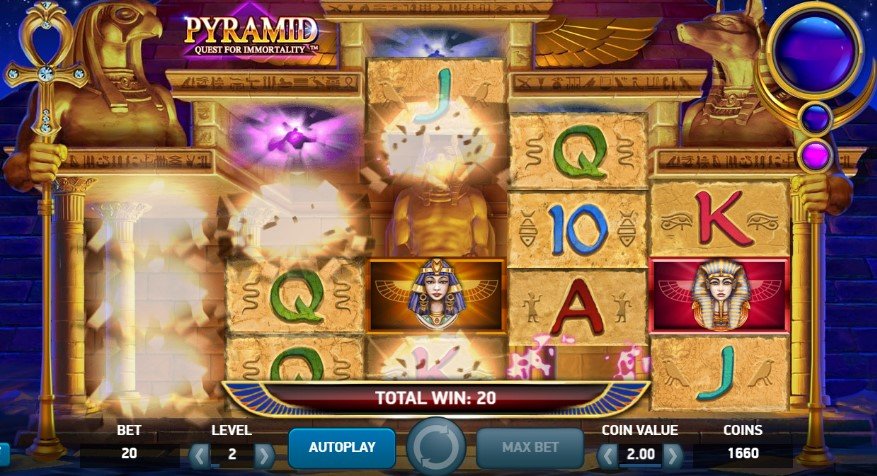 Zaključak
Pyramid Quest for Immortality definitivno ne spada u kategoriju video slotova koji obiluju akcijom i mnogim bonus opcijama tijekom igre. Odsutnost besplatnih spinova i drugih bonusa vjerojatno ga neće učiniti posebno atraktivnim za igrače. Međutim, kombinacija padajućih simbola u kolonama i multiplikatora koji se povećava sa svakom uzastopnom pobjedom mogla bi zadržati igrače zainteresiranima za ovo NetEnt izdanje. Možda je jedina stvarna mana ovog video slota činjenica da se multiplikator resetira nakon svakog spina koji ne donese dobitnu kombinaciju. Ipak, to ne bi trebalo spriječiti igrače da isprobaju ovaj video slot jer mogućnost dobitka može biti više nego zadovoljavajuća. Sve u svemu, ovo je slot koji bi najviše odgovarao iskusnijim igračima.