Igrajte The Angler besplatno
Idea
Video slot "The Angler" je stvaran od strane provajdera BetSoft i tematski je inspirisan sportom ribolova, a glavni lik, ribolovac Otis, pravi društvo igračima pored samih rolni. Ovaj slot ima tri reda i pet kolona, sa 20 dobitnih linija i uključuje opciju za automatsko okretanje spinova, što omogućava igračima da se opuste i promatraju kako se spinovi vrte dok osvajaju novčiće.
U igri se nalazi četiri niska simbola označena slovima J, Q, K i A, zajedno sa pet simbola morskih životinja, koji su srednje vrednosti. Najvrednija kombinacija standardnih simbola je ona u kojoj igrač dobije pet simbola ribolovca Otisa. Specijalni simboli uključuju divlji simbol, koji je prikazan crvenim ljuskama jastoga, zatim postoji skater simbol u obliku školjke sa biserom, kao i bonus simbol u obliku kante punom ribe.
Divlji simbol jastoga služi kao zamena za sve ostale simbole osim skatera i bonus simbola i može se pojaviti u svim kolonama osim u prvoj koloni. Skater simbol se može pojaviti u drugoj, trećoj i četvrtoj koloni, a ako igrač sakupi tri skater simbola, aktivira se opcija besplatnih spinova. Bonus simbol će pokrenuti Fish bonus igru ako se pojavi u prvoj, drugoj ili trećoj koloni.
Grafika
Jedna od najjačih karakteristika slota "The Angler" svakako je njegova grafika. BetSoft je uložio izuzetno puno truda i to je jasno vidljivo u svakom aspektu igre. Inspirisan sportskim ribolovom, ali takođe podsjećajući na animirani film "Nemo pronaći" s obzirom na stil grafike i izgled likova u slotu, koji su izrađeni u stilu crtanih filmova. Impresivna grafika stvara izvanrednu atmosferu za igranje, prikazujući jezero i planine u pozadini. Svaki dobitak se prikazuje u balončićima, što je takođe izvanredno izvedeno. BetSoft je apsolutno pogodio sa svojom crtanim filmovima inspirisanom grafikom u ovom slotu.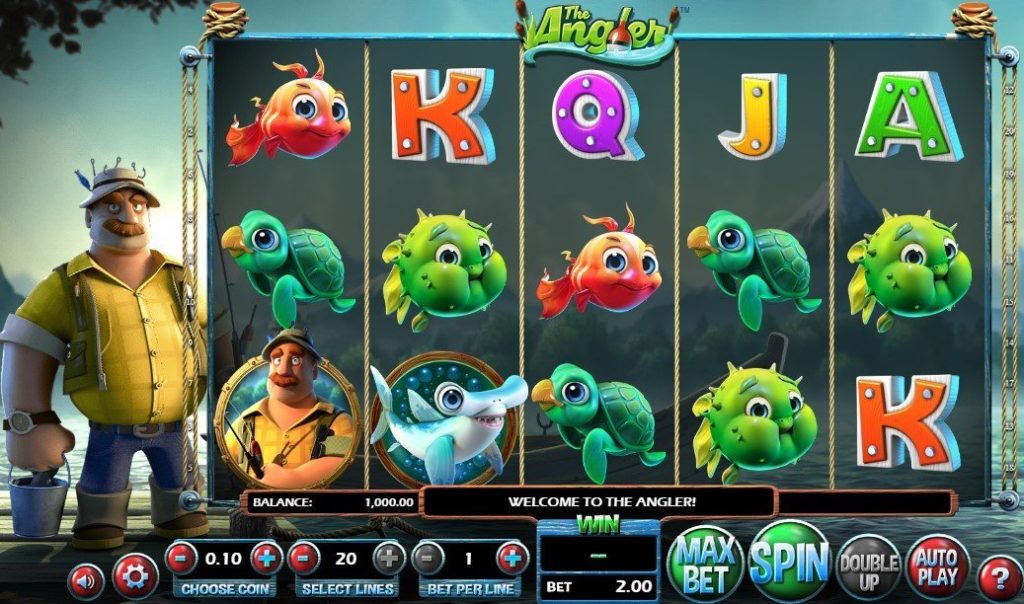 Zvuk
BetSoft je uspešno upario izvanrednu 3D grafiku sa sjajnim zvukom u slotu "The Angler". Tokom igre, igrači će konstantno slušati umirujuću melodiju koja savršeno doprinosi celokupnoj atmosferi ovog slota. Ova muzika može čak ublažiti osećaj gubitka za igrače. Zvuk okretanja valjaka podseća na mehuriće koji se stvaraju tokom ribolova, a svaki dobitak prati muzika koja se prilagođava visini dobitka. Takođe, postoji poseban zvuk koji se čuje tokom igranja "gamble" opcije, kada se bira strana novčića.
Bonus
Besplatni spinovi su jedna od bonus opcija u slotu "The Angler". Mogu se aktivirati dobijanjem tri skater simbola bilo gde u kolonama tri, četiri ili pet. Wild simbol hobotnice ostaje na svom mestu tokom besplatnih spinova, što je odlična vest za igrače.
Fish bonus igra se aktivira dobijanjem tri bonus simbola u kolonama jedan, dva ili tri. U ovoj igri će se testirati sposobnost igrača u pecanju. Što više riba igrač ulovi, to će osvojiti više novca. Igrači će u ovoj bonus rundi biti nagrađeni sa 100 kredita, pa čak i ako nemaju mnogo sreće u pecanju, neće otići potpuno praznih ruku.
Gamble ili opcija za dupliranje dobitka omogućava igraču da se kladi sa polovinom svog dobitka ili sa kompletnim dobitkom, ako su voljni da rizikuju, koliko god puta žele. Igrač bira da li će uložiti polovinu svog dobitka ili sve, i bira između glave i pismo na novčiću. Pogodak će udvostručiti početnu opkladu, dok će promašaj značiti gubitak svega.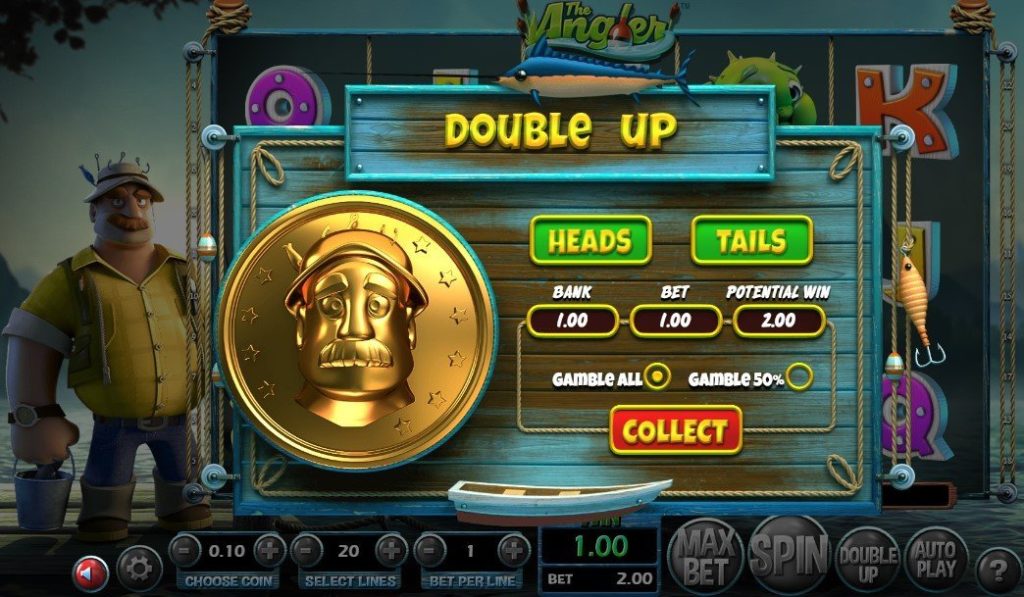 Zaključak
Da biste uživali u slotu "The Angler" koji je razvio provajder BetSoft, nije neophodno da budete zaljubljenik u ribolov, i to neće umanjiti vaše iskustvo igranja ovog slota. Igrači će biti oduševljeni 3D grafikom koja je impresivna i autentičnim scenama koje pružaju pravi osećaj mira i tišine, kao u pravom ribolovu. Ova atmosfera kontrira uobičajeno bučnim slotovima i pruža igračima jedinstveno iskustvo.
Međutim, "The Angler" nudi mnogo više od estetskog doživljaja, jer je slot bogat različitim opcijama, uključujući besplatne spinove i bonus igru. Ovaj slot ima određenu kompleksnost, što znači da možda nije najbolji izbor za potpune početnike i verovatno će više odgovarati igračima koji već imaju iskustva sa slot igrama.