Igrajte Crystal Hot 80 besplatno
Idea
Crystal Hot 80 je video slot od provajdera Fazi Interactive koji pruža igračima retro iskustvo igre na slotu. Ima pet kolona i četiri reda, te čak 80 fiksnih platnih linija s voćkastom temom, inspiriran starim slot mašinama. Iako je tema voćkica već često viđena, to ne znači da ovakav slot ne može biti privlačan za igrače. Upravo to je slučaj s Crystal Hot 80. Ovaj video slot od Fazi Interactive je unapređena verzija prethodnog izdanja, Crystal Hot 40, s dodatnih 40 platnih linija koje mogu rezultirati ozbiljnim dobitcima. Igra je prvenstveno namijenjena iskusnim igračima koji su spremni preuzeti veći rizik.
Slot sadrži šest osnovnih simbola: lubenicu, trešnju, šljivu, narandžu, limun i grožđe, a svaki od njih može donijeti pristojne dobitke. Wild simbol u ovom videu slotu je crvena sedmica, koja zamjenjuje druge osnovne simbole kako bi se stvorila dobitna kombinacija, a također može donijeti velike dobitke. Skater simbol je kristalna zvezda koja također plaća na bilo kojoj poziciji na kolonama, a igrač koji dobije pet skatera bilo gdje na kolonama osvaja najveći mogući dobitak.
Ovaj slot također ima opciju automatske igre (autoplay), kojom igrač može postaviti automatske spinove kako ne bi morao ručno pokretati svaki put. Također, igrač može odabrati broj spinova koje će aktivirati putem ove opcije, s mogućnošću od pet do 1.000 spinova.
Grafika
Kao i kod prethodnika, Crystal Hot 40, Fazi Interactive je ponovno isporučio impresivnu grafiku u ovom video slotu. Simboli izgledaju kao da su izrađeni od kristala, a ovaj efekat je posebno dobro prikazan, dajući dojam 3D izgleda. Pozadina slota je u zlatnoj boji, dok su boje voćnih simbola živopisne i ugodne za oko. Kada igrač ostvari dobitak, prikazuje se posebna animacija s plamenovima, a simboli koji čine dobitnu kombinaciju bljeskaju. U gamble opciji, karte su jasno prikazane, a ukupni dojam je da je Fazi Interactive, kao i u slučaju prethodnika, posvetio mnogo pažnje ovom aspektu igre.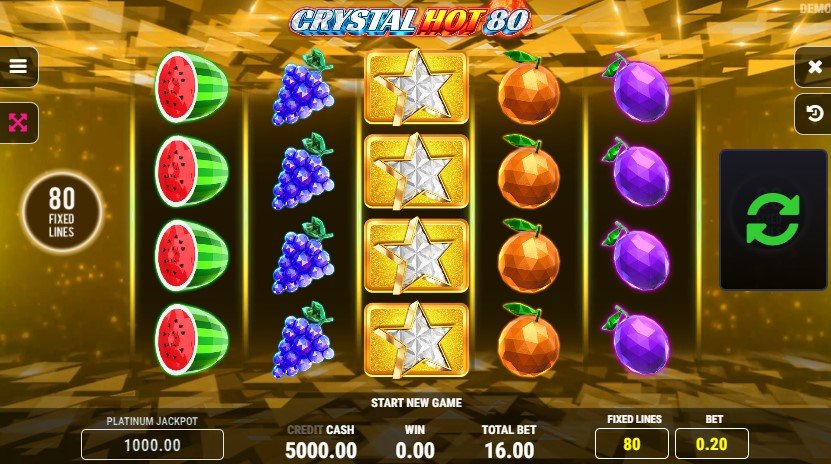 Zvuk
S obzirom na retro stil ovog video slota koji je Fazi Interactive kreirao, i audio segment je oblikovan prema istoj koncepciji. Pokretanje slota prati jednostavan zvuk koji se ponavlja, što bi moglo brzo postati dosadno igračima. Melodija se čuje kada igrač ostvari dobitne kombinacije, a kao i kod prethodnog Crystal Hot 40, i ovdje se melodija razlikuje ovisno o tome s kojim simbolima je ostvarena dobitna kombinacija.
Kada igrač odluči prenijeti dobitak na svoj ukupan saldo, čuje se zvuk novčića dok se iznos broji. Poseban zvuk prati odluku igrača o korištenju gambling opcije, a također je pratilo i zvučno efektno miješanje špila karata dok igrač pokušava pogoditi boju sljedeće karte. Iako nema ničeg revolucionarnog u ovom segmentu, Fazi Interactive je obavio prilično dobar posao s audio aspektom ovog video slota.
Bonus
Ako igrači odaberu Crystal Hot 80 video slot i očekuju obilje bonus opcija i besplatnih spinova, mogli bi biti razočarani ovim izdanjem od strane Fazi Interactive i pitati se što je dostupno. Međutim, važno je napomenuti da je ovaj slot namijenjen iskusnijim igračima koji su spremni preuzeti veći rizik. Sve se svodi na maksimalno iskorištavanje šansi za pobjedu, a Crystal Hot 80 je kreiran kako bi igračima pomogao upravo u tome.
Wild simbol u ovom slotu, kao što je uobičajeno, služi za zamjenu svih ostalih simbola kako bi se formirala dobitna kombinacija, ali također može donijeti značajne isplate igračima ako se pojavi tri ili više crvenih srećnih sedmica. Skateri obično donose besplatne spinove, ali ih nema u ovom izdanju. Međutim, skater simboli, odnosno tri ili više skatera, mogu donijeti igračima značajne novčane dobitke.
Ono što Crystal Hot 80 video slot zadržava od uobičajenih bonus opcija je mogućnost klađenja, odnosno gambling opcija. Pomoću ove opcije, igrač može udvostručiti svoj dobitak pogađanjem boje sljedeće karte, crvene ili crne. Ako pogodi, njegov dobitak će se udvostručiti, ali ako promaši, izgubit će sve što je uložio u igru. Šanse su 50/50, ali nije svatko spreman na takav rizik.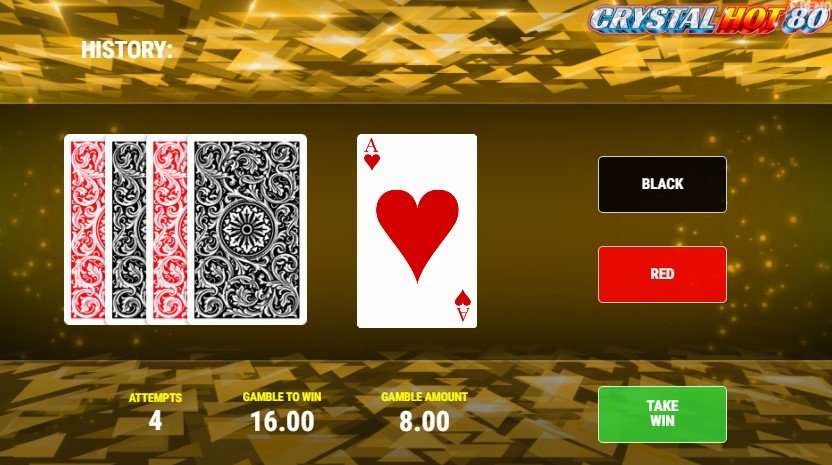 Zaključak
Svi ljubitelji klasičnih video slotova će uživati u igranju Crystal Hot 80, izdanja provajdera Fazi Interactive s 80 fiksnih platnih linija. Ovaj slot ne nudi bonus opcije niti dodatne igre, već je čisti primjerak klasičnog video slota. Možda se neće svidjeti igračima koji vole dodatne opcije za povećanje dobitka, ali iskusniji igrači koji su spremni na veći rizik mogli bi pokušati ostvariti značajne pobjede u ovom video slotu. Stoga, ovaj video slot možda nije najbolji izbor za početnike, ili bi barem trebali isprobati besplatnu demo verziju prije nego što se upuste u igru s pravim novcem.