Igrajte Secrets of Alchemy besplatno
Idea
Ovaj slot od strane EGT-a je odličan izbor za sve ljubitelje priča o alhemiji i pretvaranju običnih stvari u zlato, što su alhemičari pokušavali tokom srednjeg veka. Slotova s ovom temom nije previše, pa je EGT odlučio privući igrače na ovaj način.
Simboli u igri su baš onakvi kakvi bi se očekivali od slota s temom alhemije. Tu su zlatne ruže, zlatne poluge, velika knjiga alhemičarskih recepata, muškarac i žena. Također su prisutni simboli slova J, Q, K i A, a slot također ima scatter i wild simbole. Scatter simbol je prikazan kao dvorac na letećem otoku, dok je wild simbol alhemičar iznad knjige recepata za alhemiju.
Secrets of Alchemy ima raspored od tri reda u pet kolona s 25 isplatnih linija. Kao što se i očekuje, ovaj slot nudi opciju za automatsko igranje (autoplay), što omogućava igračima da podešavaju automatske spinove bez potrebe za ručnim pritiskanjem dugmeta svaki put. Ova opcija se lako aktivira i deaktivira.
Ovaj slot pruža igračima mnogo različitih kombinacija i stoga je savršen za sve vrste igrača, bez obzira da li preferiraju manje uloge ili su spremni uložiti veće iznose novca.
Grafika
Iako EGT rijetko kada razočara u pogledu grafike, ovog puta se može reći da je to slučaj jer je grafika definitivno slabija strana Secrets of Alchemy. Iako je slot šaren i bogat bojama, čini se da nema savršenog usklađenja, posebno s obzirom na to da je čitava pozadina slota zelena i prelazi od tamnije do svjetlije nijanse, što se slaže s temom igre. Simboli muškarca i žene izgledaju suviše generički i pomalo zastarjelo, iako ostatak slota ne ostavlja takav utisak. Simboli slova su oblikovani tako da podsjećaju na dragulje, ali ovakav dizajn ne baš najbolje odgovara preostalim simbolima.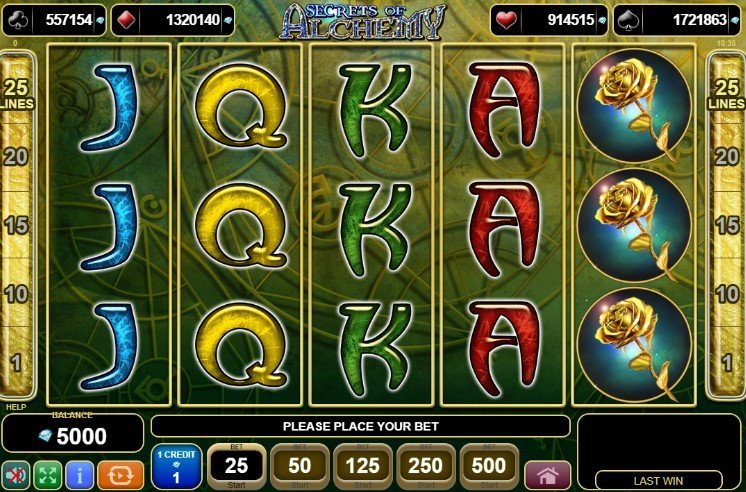 Zvuk
Recept koji EGT najčešće primjenjuje kada su u pitanju zvuci u njihovim slot igrama nije promijenjen ni u slučaju Secrets of Alchemy. Igrači će prepoznati dobro poznate mehaničke zvukove pri okretanju valjaka, kao i brzi zvuk koji prati pojavu simbola skatera na ekranu. Postoji i specifična melodija koja se samo malo razlikuje u zavisnosti od vrste dobitka koji igrač ostvari, ali općenito, nema mnogo promjena u zvucima u odnosu na druge EGT slotove. Vjerovatno će igračima nakon nekog vremena zvuk postati prilično monoton.
Bonus
Opcije bonusa u ovom slotu su uglavnom standardne za slot igre. Igrač može osvojiti sedam besplatnih spinova aktivirajući tri skater simbola. Ako tokom besplatnih spinova igrač ponovo dobije tri skater simbola, ti besplatni spinovi će se dodati na već postojeće.
Gamble opcija se pojavljuje nakon svakog dobitka. Igrač može kockati svoj dobitak pogađajući boju naredne karte koja će biti izvučena, crvenu ili crnu. Ako igrač pogodi boju, njegov dobitak će se udvostručiti, ali ako pogriješi, izgubit će sve. Važno je napomenuti da ova opcija nije obavezna i igrači je mogu koristiti po vlastitom izboru.
Džekpot bonus igra uključuje 12 karata sa licem okrenutim na dole, a igrač treba da odabere tri karte istog znaka. Karte sa znakom trefa su najmanje vrijedne, dok su karte sa hercom, karo i pikom najvrijednije.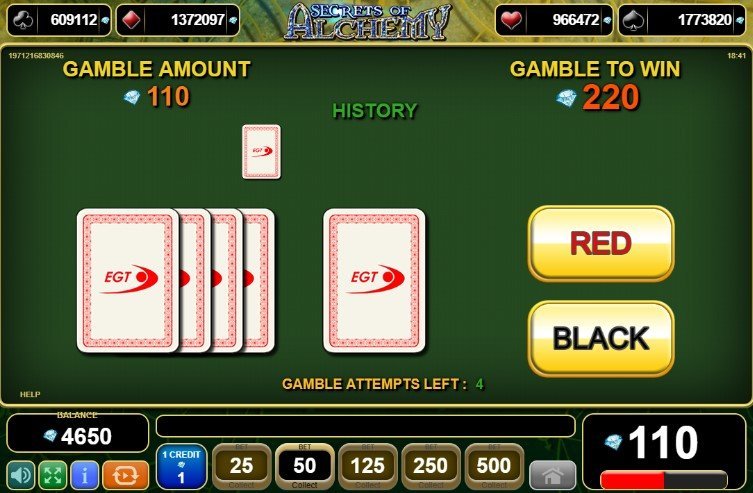 Zaključak
Ovaj slot će svakako privući pažnju igrača. Secrets of Alchemy donosi dovoljno dodatnih opcija koje će potpuno zainteresovati igrače. Iako može delovati komplikovano na početku, igrači će brzo savladati igru i lako će se snaći u kontrolama. Ono što će posebno privući igrače je činjenica da ovaj slot nudi 25 platnih linija, pružajući mnogo prilika za dobitak. Zbog toga će igrači lako preći preko relativno skromne grafike i zvuka, koji su definitivno mogli biti bolji.