EGT, odnosno Euro Games Technology je provajder softvera kako za klasična tako i za onlajn kazina. Sedište kompanije je u glavnom gradu Bugarske, Sofiji i kompanija je tokom godina obezbedila širok izbor igara za tržište Evrope, Južne Amerike i Azije. Igre ovog proizvođača su slotovi, rulet, blekdžek, kao i onlajn video slotovi i druge specijalizovane igre kao što je Keno. EGT slotovi imaju različlite teme i sadrže razlitive nivoe kompleksnosti što znači da će igrači lako pronaći ono što im najvie odgovara.
Istorijat
Komapnija EGT osnovana je 2002. u Bugarskoj i od tada ostvaruje konstantan i uspešan napredak. Iste godine kada je i osnovana, kompanija je objavila i svoj prvi slot "Gladijator" i licencirana je za razvitak i obezbeđivanja opreme za igranje za narednih pet godina. EGT je 2004. učestvovala na prvoj sajmu i razvila nove platforme, da bi godinu dana kasnije učestvovala na nekoliko sajmova i objavila još nekoliko igara.
U narednim godinama komapnija je nastavila sa razvijanjem, a svake godien je EGT uspevao dan apravi nove proizvode, uđe na nova tržišta i predstavi svoje proizvode na međunardonim sajmovima. Godni uza godinu je lista uspeha kompanije rasla, a danas je EGT član nekoliko organizacija. EGT je 2014. proširila delokurg rada i na internet kockanje i sada ima onlajn i mobilnu diviziju, a 2015. je lansirala novu onlajn platformu EGT Interactiv.
Kada dizajniraju moderne verzije slotova, ljudi u EGT-u poklušavaju da povećaju broj dodataka i naprave ih još privlačnijim za igru, dok istovremeno sve postojeće prednosti tih slotova ostaju. Slotovi kompanije EGT su laki za kontrolu i dobro poznati po svojim karakteristikama. Ukoliko igrači vide višeslojne simbole, četiri tipa džekpota i velike multiplikatore verovatno je u pitanju slot kompanije EGT. Igre ove kompanije se koriste u 75 zemalja, a njiho kvalitet je potvrđen nizom nagrada.
EGT igre
Ovaj provajder u svojoj ponudi ima preko 250 igara, što znači da bi EGT sam mogao da obezedi igre za kompletan onlajn kazino potpuno sam. Ova činjenica dovoljno govori o održivosti proizvoda kompanije EGT, što ovog provajdera čini jednim od najpoželjnijih provajdera u ovoj industriji. Glavne kategorije igara kompanije EGT su slotovi, stone igre, kartaške i bonus igre. Kao mana kod EGT igara se može uzeti nešto slabiji kvalitet grafike, makar kada se uporedi sa drugim provajderima koji se bave izradom igara za onlajn kazina.
Slot igre
Pošto EGT u svojoj ponudi ima više od 150 naslova slot igara, jasno je zbog čega je kompanija odlučila da ih razvrsta u podkategorije, pa tako postoje klasični, voććni, multilajn, ekstra lajn i dajs slotovi. Svi naslovi su originalni i mada se možda malo razlikuju u kvalitetu i njihovom stilu, kontroel interfejsa su identične kod svih igara što znači da igrači neće morati da uče gde se nalazi "autoplay" dugme svaki put kada promene igru. Slotovi koji su dizajnirani za onlajn kazina su uglavnom u fleš verzijama, a najpopularniji slotovi 5 Dazzling hot, Grace of Cleopatra, 2 Dragons, 40 Super Hot, Halloween, Burning Hot i Extra Stars.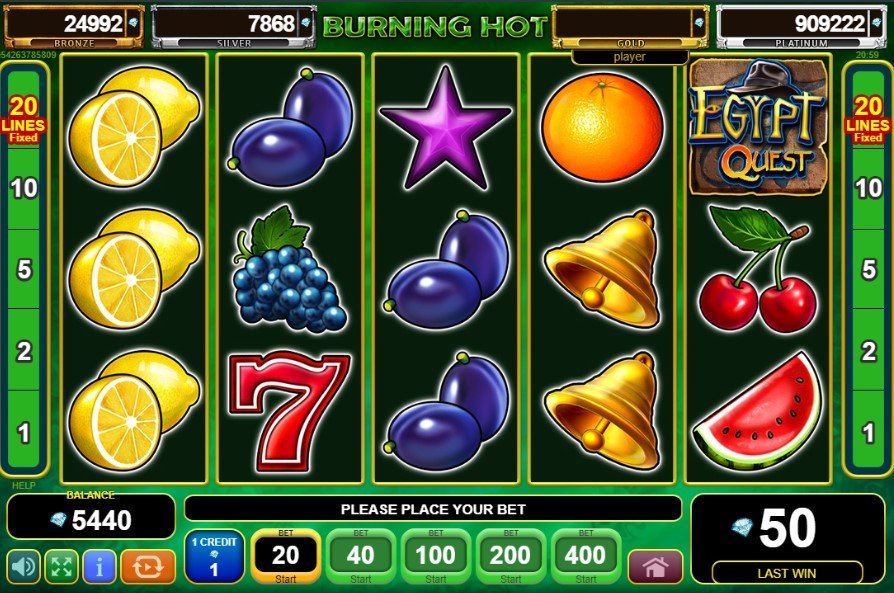 Stone igre
Mada bi se očekivalo da u pondu bude značajna broj stonih igara, to nije slučaj. Ovo je prilično iznenađujuće jer su temelj uspeha kompanije EGT u klasičnim kazinima činili elektronski rulet i elektronske blekdžek igre. U ponudi su samo virtuelni rulet, evropski rulet, Lucky Circle i Keno Universe. Ovi naslovi su pristojnog stila, a impresionira njihova funkcionalnost bez i najmanjeg zastoja. Zanimljivo je da je virtuelni rulet instant verzija igre gde igrači učestvuju u vrtenju kuglice, dok u evropskom ruletu postoji uživo prenos pravog točka za rulet, kao i vreme za koje igrači mogu da polože opkladu.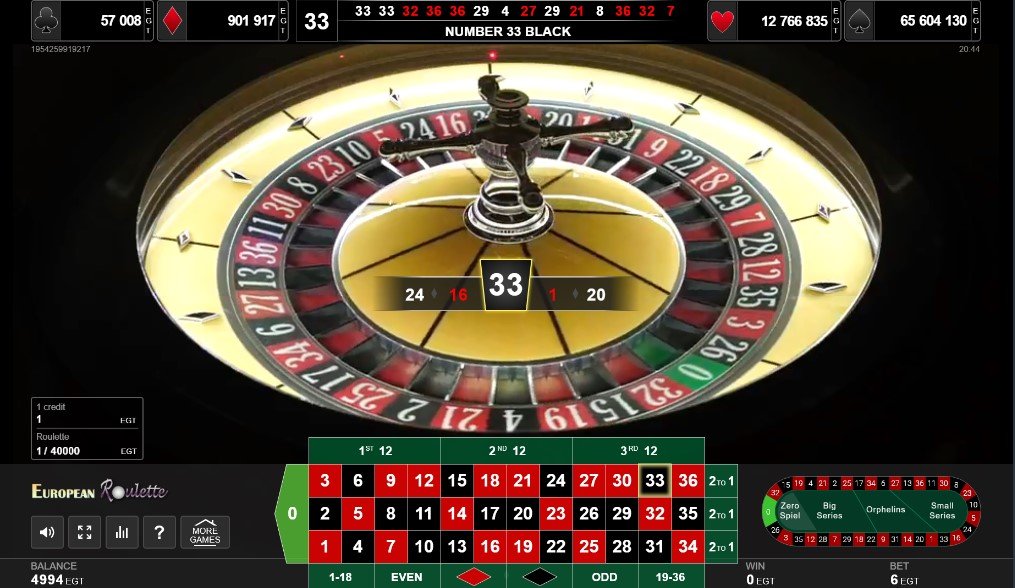 Igre sa kartama
Igrači bi u ovoj sekciji očekivali klasične kartaške igre kao što su blekdžek ili bakarat, ali tu se zapravo nalaze tir naslova video pokera "4 of a Kind Bonus Poker", "Joker Poker" i "Jacks or Better". Interfejs u sve tri igre je identičan, osim boje stola.
Jedan poseban dodatak koji imaju sve video poker igre je takozvano "dupliranje", koje dozvoljava igračima da rizikuju poslednji ostvareni dobitak u jednoj rundi igranja izvlačenja karte "crveno ili crno". Ove igre imaju pet različitih nivoa klađenja i četiri tipa. Iako su ovi naslovi video pokera odlični i pružaju pravo uživanje, ipak imaju jednu manu, a to je da igrači mogu igrati samo jednu ruku istovremeno.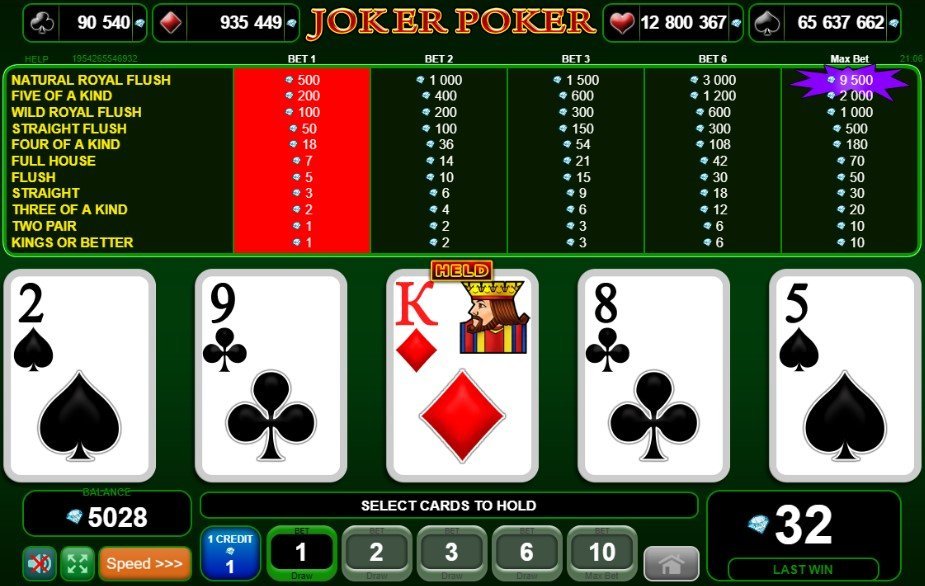 EGT bonusi i promocije
Igre koje su u ponudi komapnije EGT imaju različite vrste bonusa koje zavise od toga gde igrači igraju, odnosno u kojem onaljn kazinu. Najčešći bonus u svakoj od igara je džekpot iz četiri nivoa. Tako će igrači na jednom mestu dobiti bonus u iznosu od 100 odsto depozita do 300 evra, a takođe će dobiti i bonus u visini 50 odsto drugog depozita za sume do 500 evra. U dugim kazinima igrači će kao bonus dobiti 20 besplatnih spinova na svoj prvi uplaćeni depozit. U globalu, glavni bonus je džekpot, dok svi ostali zavise od kazina koji izaberu igrači.
Promocije su raspoređene u različitim EGT igrama od strane više kazina. Promocije se često menjaju. Da bi igrači mogli da dobiju promociju EGT-a potrebno je da potraže onlajn kazina u kojima se nalaze igre ove kompanije i zatim uživaju u različitim pormocijama koje su vezane za različite igre.
Mobilne platforme
Mobil iGaming je jedno od polja koje EGT razvija. Kompanija ima za cilj da razvije veoma zabavan sadržaj sa neograničenim pristupom u bilo koje vreme i na bilo kojem mestu. Sve nove igre su napravljene u HTML5 tehnologiji i kao rezultat toga sve je moguće igrati i van kuće.
Igre su dostupne kroz veb brouzer na svim uređajima. Ono što posebno impresionira, iskustvo igranja na takav način je potpuno isto kao i kada bi se igralo u regularnim kazinima.
Dok većima slot igara može da se igra na mobilnim brouzerima koji su bazirani na Android i iOS operativnim sistemima, neke od igara nisu podržane od strane nijednog smrtfona ili tableta. Neke od tih igara uključuju i kompetnu sekciju "Karte". Ovo ipak ne treba da obeshrabri igrače jer EGT vredno radi na preradi starih naslova kako bi njioohvi stari naslovi postali kompatibilni sa novim tehnološkim stadnardima.
Licence
EGT je pouzdan provajder softvera za kazino igre. Pošto je kompanija licencirana za operacije sa klasičnim kazinima u poreko 70 država širom sveta, njen rad i politika poslovanja strogo prati zahteve zakonodavstva razlitih pravnih sistrema u tim državama. Komapanija poseduje internacionalne sertifikate od Gaming Laboratories International (GLI) i SIQ Gaming Technologies.
Zaključak
EGT možda i nije među najvećim provajderima softvera, ali svakako je među onima koji ostvaruju najveći rast. Pošto ostvaruju konstantan rast i probijaju se ka vrhu među softver provajderima, njihove igre su prepune sa bonus dodacima koji se često aktiviraju. Džekpot iz četiri nivoa je jedan od najomiljenijih dodataka i pomogao je da stare i nove slot igre iz kompnije EGT steknu popularnost.
Iako je činjenica da igre koje nudi EGT ne mogu baš da očaraju igrače svojim izgledom koji je ste dobar, ali nije vrhunski, njihovo programiranje i funkcionalnost definitivno obezbeđuju solidno iskustvo onlajn kazina. Ova platforma ima fantastične ideje, ali stiče se utisak da sebe reklamiraju više iz nužnosti umesto zbog kvaliteta koji imaju. EGT će definitivno morati da nadogradi vizuelni stil svojih igara, ukoliko žele da ih ljudi posmatraju kao kompaniju kojoj je stvarno stalo do razvijanja igara za onlajn kazina. Ipak,m ako igrači žele dobru platformu za igre koja će im omogućiti zabavu EGT je svakako dobar izbor.